While your budget may determine which countertop you can have installed in your kitchen there are many options available at every price point.  No matter which material you can afford remodeling your kitchen with a new countertop is a great way to upgrade your space.  There are a multitude of colors and styles available in kitchen countertops at every price point making it easy to customize your space.
RECYCLED GLASS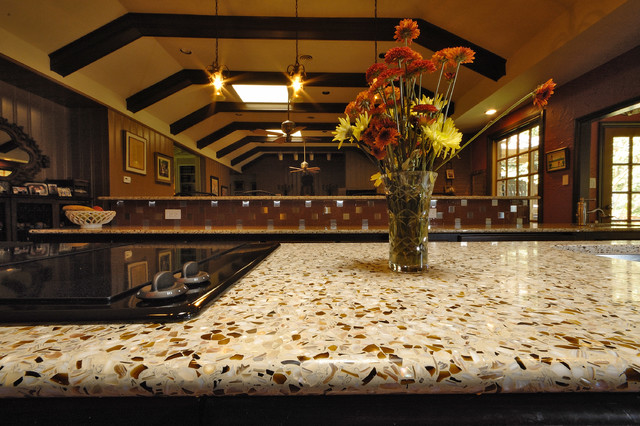 Cost

$60 – $120 per square foot

About

 Recycled glass countertops are composed of 100% recycled glass (post consumer and pre-consumer) in a cement or petroleum based binder. A finished recycled glass countertop often ranges from 70 to 85 percent in recycled content.1

Properties

Durability:Recycled glass countertops are heat resistant and scratch resistant (note: not scratch PROOF).  They are easy to clean and non-porous which makes themr resistant to staining.  Depending on the brand you may need to reseal your countertop every few years to maintain its durability.2Cleanliness:Due to their non-porous nature recycled glass countertops are resistant to bacteria.Style:

Recycled glass countertops come in a wide variety of colors ranging from white, beige, or grey to blue, green, or red.  Since they are made from recycled materials each countertop is one of a kind and truly a work of art.  Your countertop can be customized to your vision and will add beauty and elegance to your kitchen.

Investment:

Installing a recycled glass countertop will increase the value of your home.  In addition, it is a green material and will earn you LEED certification points, in addition to helping out our planet!  For more information on LEED certification visit http://www.usgbc.org/leed/certification/homes.
PAPER COMPOSITE
Cost

$70 – $100 per square foot3

About

 Paper composite countertops are made of post-consumer recycled paper and other fibers held together by a formaldehyde-free thermoset plastic resin. It is available in thicknesses ranging from ¼ inch to 2 inches.4

Properties

Durability:Paper composite can withstand heat and water and is lighter than stone or concrete.  However, it is not scratchproof and is susceptible to chemical damage.  Occasionally it needs a rubdown with mineral oil and a light sanding to refresh it.
Cleanliness:Due to their non-porous nature paper composite countertops inhibit the growth of bacteria.Style:Paper composite countertops are available in a wide variety of colors.  Some of the colors even come with a striped edge or bamboo edge detail for added character.

Investment:

Paper composite will not add as much value to your home as granite, quartz, marble, concrete, or recycled glass but are a great sustainable option for your home.  In addition, you can earn LEED certification points by installing these countertops. For more information on LEED certification visit http://www.usgbc.org/leed/certification/homes.
For additional information on kitchen countertops visit our blog posts on the below materials:
If you are looking to remodel your home in Portland, Oregon contact Sitka Projects today for a quote on your home remodeling project.
Resources
1. http://en.wikipedia.org/wiki/Recycled_glass_countertops
2. http://countertopsguide.net/recycled-glass-countertops.html
3. http://www.houzz.com/ideabooks/1623075/list/Kitchen-Countertops-101–Choosing-a-Surface-Material
4. http://www.thekitchn.com/all-about-paper-based-composite-countertops-countertop-spotlight-169765