Increase Your Curb Appeal
Whether you just bought a home, want to sell your home, or simply want to give your home a facelift; adding curb appeal to the front of your house will increase its overall value while making your home more inviting to guests.  There are a multitude of ways to increase curb appeal with small weekend projects.  However, below are some of our favorite ways to make a dramatic difference to completely transform the exterior of your home.
CREATE AN INTERESTING ENTRY
The entry of your home is often the most significant factor in curb appeal.  It is the natural area your eye is drawn to when first approaching a home, and sets the tone for the overall design.  Make your front door stand out, add a porch, or install molding to create an intriguing entry that will invite people into your home.  View our blog Bold Front Doors for ideas on front doors.
ADD SHUTTERS, TRIM, OR PLANTER BOXES TO YOUR WINDOWS
Often the outside of a home lacks interesting features that give it character.  Adding shutters, trim, or planter boxes will make your windows architectural focal points that stand out.
REPAIR, OR PAINT, SIDING AND TRIM
Outdated color schemes or cracked/damaged siding or roofing drastically affects the overall appearance of your home.  A fresh coat of paint and repaired defects will give your home a vibrant new look.
APPLY STONE ACCENTS
Another great way to add interest to the front of your home is by applying stone veneer.  You can add stone (or cultured stone) detail to concrete foundations, column footings, and other masonry details as a beautiful accent to the exterior of your home.  View our blog Natural Stone or Cultured Stone for more information.
REVAMP YOUR PORCH
An old porch with a lackluster finish, peeling paint, or damaged boards/railings will age your home and significantly decrease your curb appeal.  Refinish wood porches, or consider installing tile as an intriguing way to restore your porch.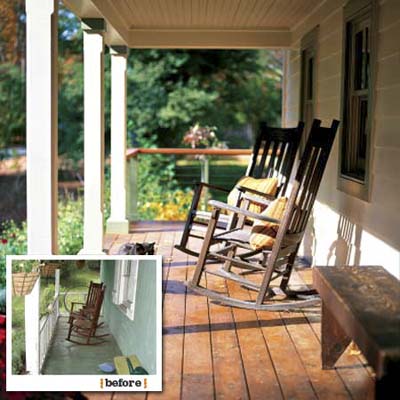 If you are looking to remodel your home in Portland, Oregon contact Sitka Projects about an in-home consultation to discuss your upcoming home remodeling project.