Kitchen Sinks – Style Options
Choosing your kitchen sink material is only half of the decision process when selecting a kitchen sink.  Before making your final decision it is important to weigh the pros and cons of each kitchen sink style to find the one that best fits your lifestyle and budget.
APRON-FRONT/FARMHOUSE
The apron-front sink has been revamped and is no longer a sink just for farmhouses.  The functionality of the extra depth and minimal "reach over" to access the sink has grabbed the attention of every style of homeowner.  Once available in only simplistic designs, the apron has become a statement piece with a multitude of artistic designs to choose from.
COMMERCIAL
For the cooking and entertaining enthusiast a kitchen sink with restaurant efficiency could take your hosting abilities to the next level.  Designed to handle a multitude of dishes, pots, and pans the commercial style sink has the durability to handle whatever you throw at it.
UNDERMOUNT
Undermount sinks give you the ability to wipe scraps and crumbs straight from the counter into your sink.  The caulk is eliminated from view giving your kitchen a clean, seamless look while maximizing your counter space.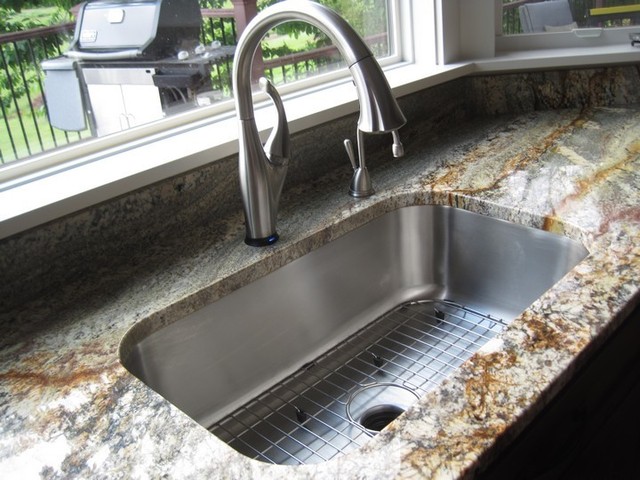 DROP-IN
Affordable installation is the biggest benefit of a drop-in sink.  These sinks can be used with any countertop material and help keep water off the counter.
ATTACHED DRAINBOARD
Having an attached drainboard eliminates the worry of water damage on your countertop.  The attached drainboard gives you a convenient place to prepare food or let dishes dry.
FULLY INTEGRATED
Integrated sinks are made from the same material as the countertop, often fabricated as a seamless unit within the countertop.1  These sinks eliminate all the caulk lines, ridges, and edges making them easy to clean.  Just make sure you use a durable material because if you damage the sink you have to replace your entire countertop!
SINGLE BOWL
Single-bowl sinks can work well in any size of kitchen, but they're especially useful in small kitchens with limited counter space. A large, double- or triple-bowl model may overwhelm a small room.  Single-bowl sinks can make it somewhat harder to multi-task in the kitchen, but if you are mainly using the kitchen sink to rinse dishes before putting them into the dishwasher, a single-bowl sink may be all you need. Plus, they can make washing large items easier.2
DOUBLE BOWL
Double bowl sinks are especially useful for people who like to multi-task in the kitchen.  One side can be used for food preparation/garbage disposal while the other side is used to collect dirty dishes.  For households without a dishwasher, or people who choose to do dishes by hand, double bowl sinks make it easy to have soapy water in one side, and rinse water in the other.
TRIPLE BOWL
The triple bowl sink has its own unique advantages.  These sinks offer a smaller third bowl to be used as a preparation sink in addition to two larger bowls.  While a triple bowl sink may fit your lifestyle a large kitchen is necessary to accommodate the loss of countertop space.  In addition, consider having two sink faucets to increase the usability of the two large bowls.
If you are looking to remodel your home in Portland, Oregon contact Sitka Projects today for a quote on your home remodeling project.
Resources
http://www.houzz.com/ideabooks/14444996/list/Install-Your-Kitchen-Sink-for-How-You-Like-to-Cook-and-Clean